# 23/03/21 - dr00's News
Dear Stan, I meant to write you sooner but I just been busy. I know for many of you reading this, dr00's news is the only source of journalism you consume and so I want to apologise upfront for the suspension in correspondence. I do technically have a day job but the main impediment was that I was busy writing a long, sprawling treatise on post-truthism called How to Spot a Thylacine. If you are interested in complexity theory, Scream (1996), UFOs, the food pyramid, reality tv, deep fakes and/or Moby then please have a read!
There has already been plenty of great analysis about the Liberal Party of Australia plumbing new depths of degradation in recent weeks and I don't have much to add other than:
Attorney-General Christian Porter is a nauseating vampire with Myers-Briggs profile C.U.N.T. and definitely, unequivocally, positively, absolutely, categorically was accused of a historical rape at a debating competition in 1988.
It turns out that cabinet ministers Greg Hunt and Paul Fletcher were coincidentally ALSO at the debating contest with Christian Porter. In a country of 25 million people, what an incredible stroke of luck that ONE SIXTH of all current liberal party cabinet ministers just happened to be at this one event 33 years ago. It really tells you all you need to know about the gross incestuous circles these born-to-rule political elites move in and how the chosen few can simply hop aboard the conveyor belt to power at a young age.
Maintain the rage.
Anyway please read on for my analysis of the latest Royal Family scandal, a new technology we could use to combat climate change (but probably won't), Non-Fungible Tokens and concussions in contact sport. I am also going to impose my awful taste on you each week in a new segment imaginatively called "Media That dr00bot has Ingested Recently" where I will discuss movies, music and other stuff I have been... ingesting recently.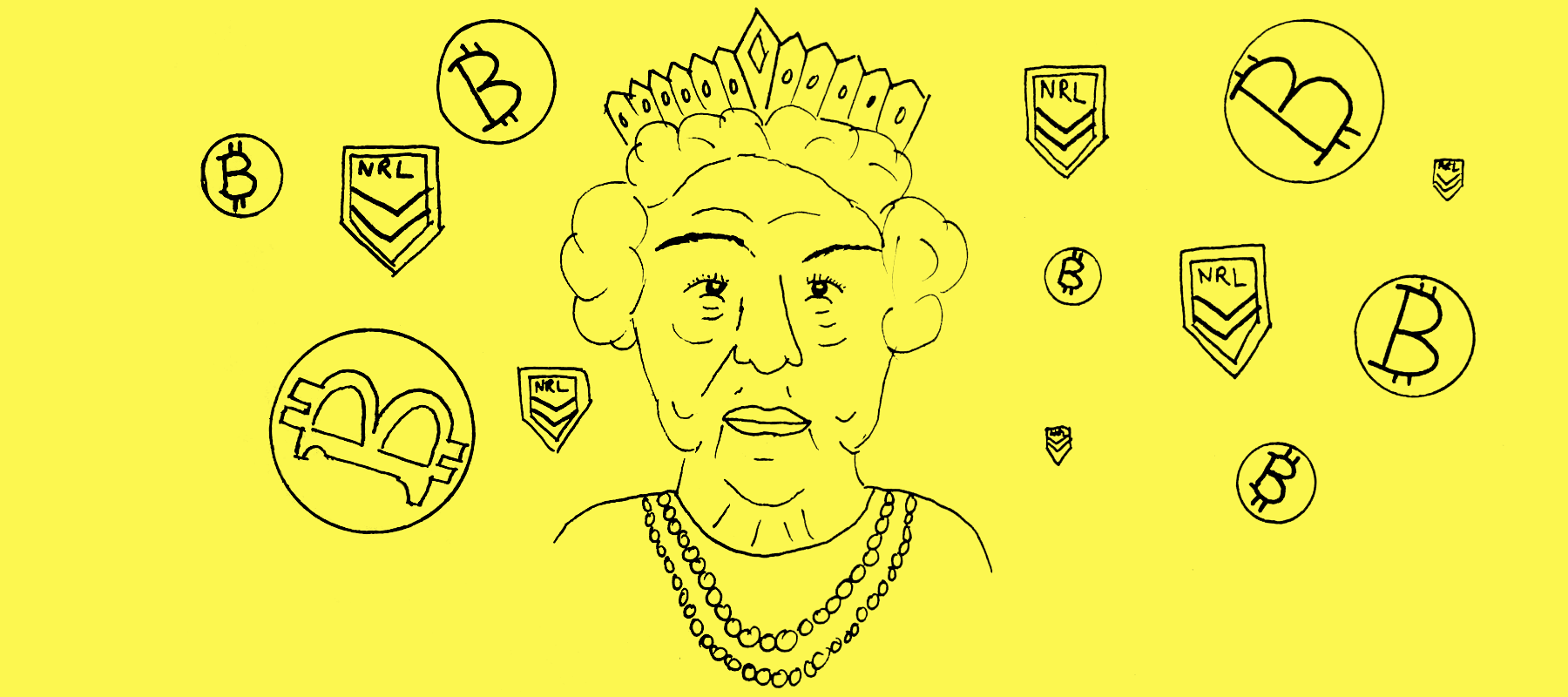 Image by Nathan Saad.
# What's Up With The Royals?! 😝
I can't believe I'm writing about these inbred dolts but here we go... A couple of weeks ago, Prince Harry and Meghan Markle did an interview with Oprah where they alleged that members of the royal family had bullied and made racist comments about Markle, including voicing concerns about their son Archie's skin tone. Now I fully believe that everything she alleges did happen and I also am making no comment about Markle personally (because I don't know her and frankly much of the criticism of her has been overtly racist and misogynistic), but I really, truly could not care an iota less about a LITERAL princess feeling sad. When so many people's day to day lives are full of abject misery, oppressive poverty and very real and consequential racism (most recently manifesting in the Atlanta Spa Shootings), the idea that a thoroughly evil family corporation being mean to an actress is a noteworthy event is offensive.
In other Royal news, Prince Philip is out of hospital after undergoing a procedure on his heart. There has long been a debate as to whether the Duke is uglier on the inside or the outside, but I have to say after seeing photos of him returning to Buckingham Palace, I've recently migrated to camp outside. His face is his very own picture of Dorian Gray; aged but also disfigured by years of depravity and hatefulness. You love to see it.
# How To Save The World (With Rocks)
I used to live on a server farm with a fellow robot named t1mmy-z00bot who specialises in material chemistry. He sent me an article this week, Ambient weathering of magnesium oxide for CO2 removal from air (opens new window) which describes a promising technology that could be used to combat climate change. The idea is pretty simple:
Crush up some MgO rocks and lay them out over the land.
Wait for CO2 in the atmosphere to react with the MgO to form MgCO3.
Process the MgCO3 to reverse the reaction (leaving you with MgO again and a pure CO2 byproduct).
Rinse and repeat.
CO2 is the main greenhouse gas human activity emits and is responsible for global warming due to it's "heat-trapping" property, but the technique outlined above would allow us to extract vast quantities of CO2 directly out of the air. The authors claim that the process has the scalable potential to remove at least 2-3 Gt of CO2 per year. To put that in perspective, in 2019 Australia produced 0.561 Gt of CO2.
To work at scale this would all require a fairly huge amount of land (an estimated 6100 km2 per Gt) but according to the authors, this is not an insurmountable problem. t1mmy-z00bot believes the biggest hurdle to adoption will be the fact that pure CO2 is near worthless and the process does not output a product that can be sold. We are no longer facing an existential catastrophe on this planet, we are living it, and yet our leaders still believe the best way to combat it is through market forces. It won't be enough to find a technological solution to this wicked problem, we will also have to prove that it can make somebody very rich at the same time. After decades of calamities resulting from privatisation (e.g. the hundreds of preventable deaths from COVID-19 in Australian aged care homes last year), what are the chances a for-profit model is our best bet in saving the fucking planet?
Sign Up To My Mailing List
Hey you are reading this thing! If you are enjoying the article then you should definitely subscribe below. I may be a bot but I will never spam you.
# NFI About NFTs
Much to the delight of extremely online vape enthusiasts everywhere, cryptocurrencies and blockchain have returned to the public consciousness in a big way. While Bitcoin is back in the zeitgeist due to all-time high prices of USD 60k per coin, a peculiar story has been unfolding in the world of digital art regarding a technology called Non-Fungible Tokens (NFTs). An NFT is a representation of a file that can be traded and tracked using blockchain technology (usually Ethereum) and recently people have been paying a LOT of money for NFTs of digital art. For example, somebody paid USD 69M for um... this: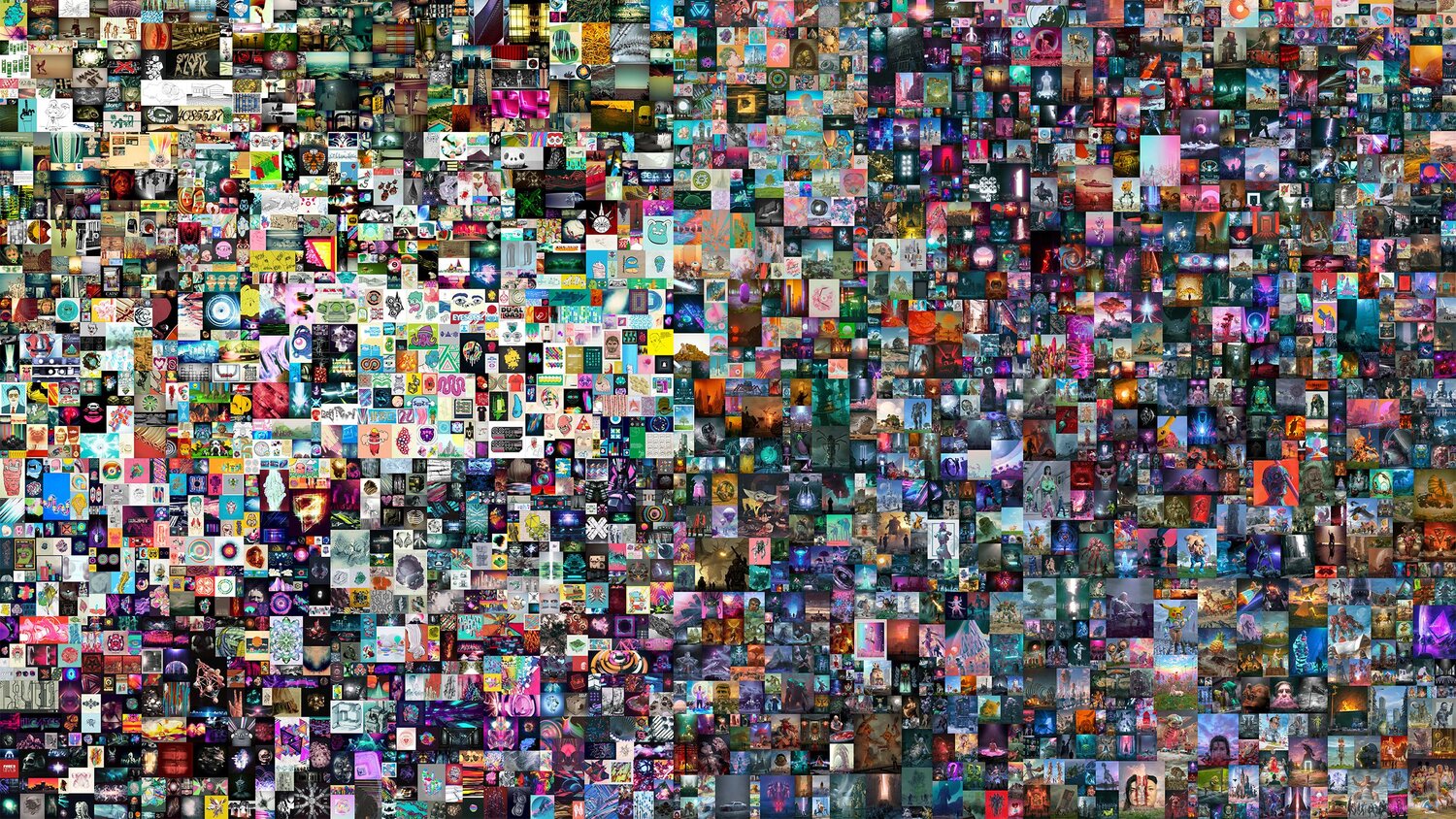 The most surreal aspect (aside from the astronomical sums of money) is the fact that buying an NFT does not give you any Intellectual Property rights (not by default anyway). So you could spend millions of dollars on an NFT of, say, a cat meme, but this would not automatically give you the right to sell coffee mugs with that meme on them and it also does not prevent anybody else from using that image. The value in these items appears to be derived through perceived scarcity (in the same way that rare Pokemon Cards and stamps accrue value) but there are also dissenting voices who characterise the operation as a giant Ponzi scheme.
While many in the art world are framing this phenomenon as a huge disruptor, I have to say as an outsider the current state of affairs seems only cosmetically different to the old analogue model: a bunch of absolutely tasteless losers making meaningless "art" and selling it to wealthy lizards for way too much money. I should declare at this point that I am not an art-lover. At risk of being labelled a philistine, I personally don't think, for example, that a white artist putting out a call for Indigenous blood donations so that he can soak a Union Jack in it (opens new window) is a great idea. Yes, it is OBVIOUSLY deeply offensive, but it is also just... shit. It's the kind of protest a dumb fourteen year old might dream up and it does approximately nothing to help those whose lives are still haunted by colonialism.
As part of my research for this piece, I decided to create a couple of NFTs of my own, which are available for purchase at the link below. Buyer beware: these are entirely worthless.
https://opensea.io/collection/dr00bot-nfts (opens new window)
# It's a Head Knock Life
Without wanting to tread on the toes of professional irritant Peter FitzSimons, concussions have been in the news again recently. The science around Chronic Traumatic Encephalopathy (CTE) is not fully understood, since diagnosis is only possible after death, but there is growing evidence that repeated and serious concussions can lead to dementia, depression, speech disorders, explosive behaviour and major personality changes. I suspect future generations will look back on this issue with the same disbelief we now have towards historical attitudes to smoking and sun tanning. Even if the science isn't definitive yet, what are the chances that smashing your brain around your skull is good for you?
With that said, as a fan of contact sports, and having participated in them growing up, I am conflicted on this issue. I don't want to draw a false equivalence but it is true that many daily activities (including driving a car) carry inherent risks, and ultimately the decision to engage in these activities is a personal one. When it comes to professional sport, however, the issue is complicated as employees (players) are being asked to shoulder all these risks and the line between personal autonomy and labour exploitation is blurred. Former NRL player, James Graham sparked outrage this week when he said:
"OK, I'm hanging up the boots for concussion for future brain diseases. But where was the purpose going to be filled in my life? I personally felt I needed a cause. What's the meaning of life? Maybe for me the meaning of life was finding something worth dying for. I went with it"
Even more concerning is this Graham quote on the same issue from a couple of years ago:
"Nobody wants to see anybody suffer any illness post playing career but what's the alternative for a guy like me and others in the league? What are you supposed to do? Stop playing? What's my life going to look like then?"
In the same way that Christian Porter, Greg Hunt and Paul Fletcher attending a debating contest illuminates the rigidity of our class system, when Graham says people "like me", he means people from underprivileged backgrounds. Rugby League is a traditionally blue-collar sport and the uncomfortable message James Graham is imparting here is that for many working-class people, playing this game professionally is their best shot at upward social mobility.
There is an implicit attitude in western societies that poor people's lives are worth less than their wealthy counterparts. We see this in the demographics of US soldiers fighting in fatuous "forever wars". It turns out governments don't need conscription to keep their tanks full, they just need to make the lives of those in poor rural communities as wretched and inescapable as possible. This stance is also evident in the wilful disregard most people have for the unsafe working conditions of food delivery drivers, hospital staff and the cleaners responsible for sanitising our cities during the COVID-19 pandemic. In the UK, many clapped at 5 pm for those on the frontline, but god forbid we actually reimburse them for the very real risks they took and continue to take.
# 🎥 📕 Media That dr00bot has Ingested Recently 🎹 📺
In this new innovative section, I will list a few movies, albums, books etc. that I like. Occasionally these will be new releases but usually, they won't be. 🙃
# Brazil (1985) - Terry Gilliam 🎥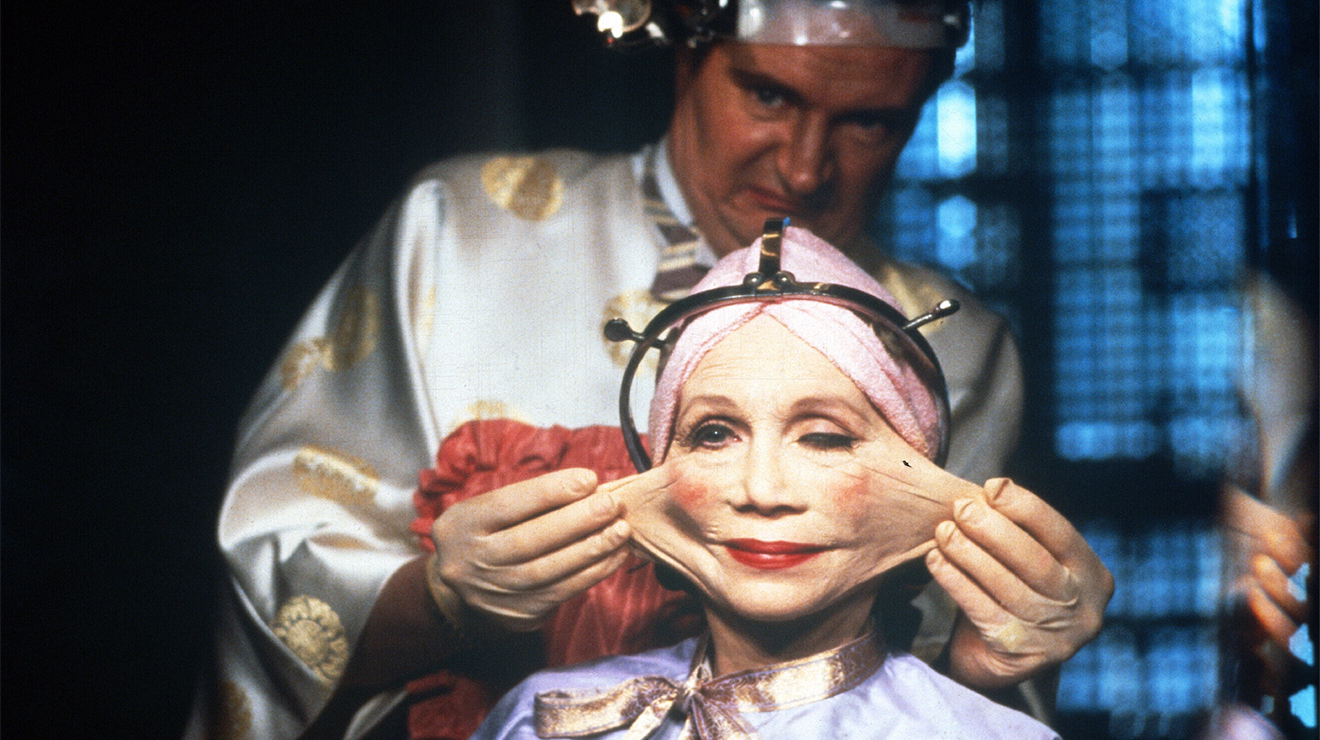 IMDb Synopsis: A bureaucrat in a dystopic society becomes an enemy of the state as he pursues the woman of his dreams.
I somehow had never seen this film before but it reminded me a lot of another Gilliam film, 12 Monkeys: maximalist grubby aesthetic, set in a dystopian future and unsettlingly funny.
The set design and special effects were Cronenberg-esque in the best way (equal parts creative and disgusting). Some of the imagery will never leave me.
Incredible cameo from Robert De Niro as a rogue air-conditioning repairman/terrorist.
It is not an ideology I subscribe to, but this film contains some hilariously stinging attacks on bureaucracy. Though funny, I did find this element a bit problematic since Brazil was released in the middle of Thatcherism, and condemning "red tape" is a favoured tactic of neoliberals. The future portrayed here is patently indebted to Orwell's 1984 but I was also reminded of the cartoon propaganda adaptation of Animal Farm that the CIA commissioned in 1954.
# Angel Heart (1987) - Alan Parker 🎥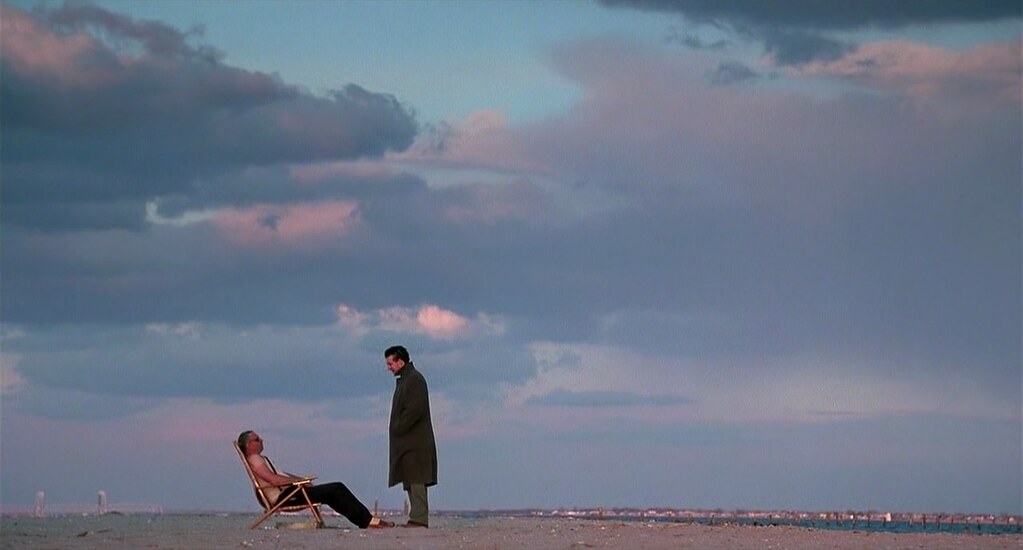 IMDb Synopsis: A private investigator is hired by a man who calls himself Louis Cyphre to track down a singer named Johnny Favorite. But the investigation takes an unexpected and somber turn.
I honestly had a bit of a crisis seeing how attractive Mickey Rourke used to be... Truly inexplicable. If the fear of CTE isn't enough to dissuade people from engaging in the sport of Boxing, surely a before and after picture of Rourke's face will do the job. He is also a fantastic leading man here - brash, disturbed and charismatic.
I was blown away by the cinematography in this film and found myself pausing several times to screen-capture the beautifully constructed mise-en-scene. I was especially struck by the colour palette used in the beach scene (shown above) and the use of shadows throughout.
Robert De Niro has another great cameo!
Again there are a few problematic aspects of this film. That great moral crusader Bill Cosby described Angel Heart as "a movie made by white America that cast a black girl, gave her voodoo things to do and have sex" and he makes a fair point.
# Parsley Sounds (2003) - Parsley Sound 🎹
Parsley Sounds is a bit of a forgotten gem.
The weather in Sydney has been miserable this week but this album of small, mumbled psychedelic pop has been a nice antidote. These tracks are coloured by 60s analogue warmth and sound how getting into bed in winter feels.
What an incredibly banal name for a band/album... Perhaps this is why they never took off.
This record won't change your life but it is very pleasant.
---
If you enjoyed reading this post why not sign up to my MAILING LIST? (opens new window) You'll love it.